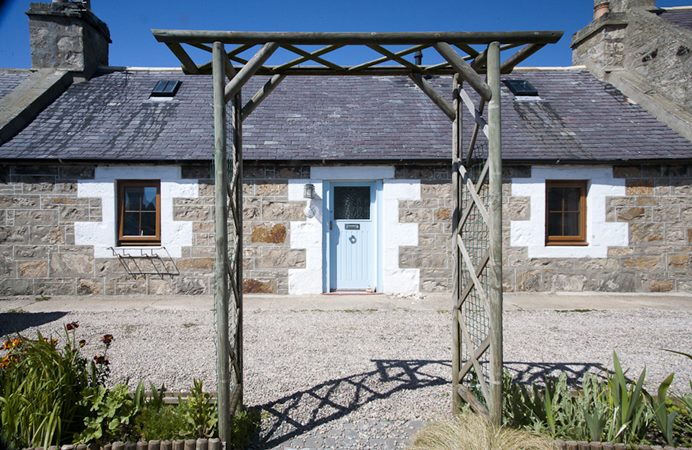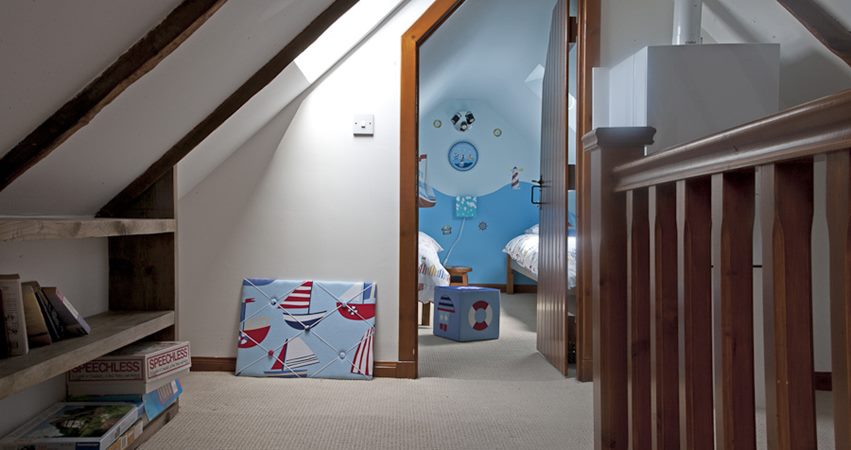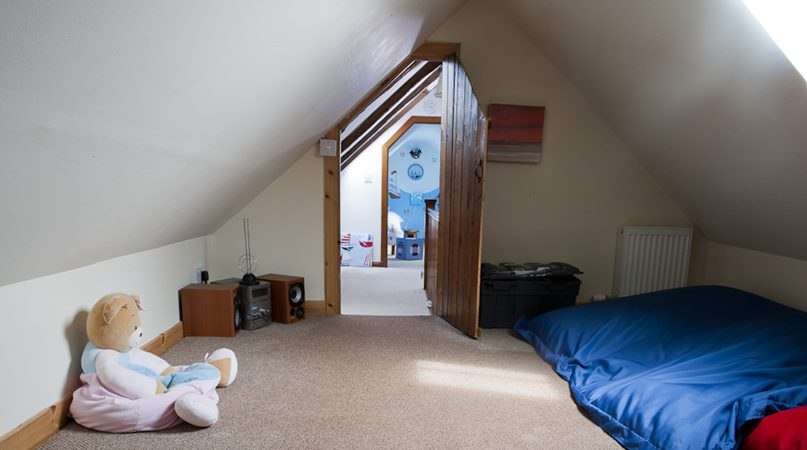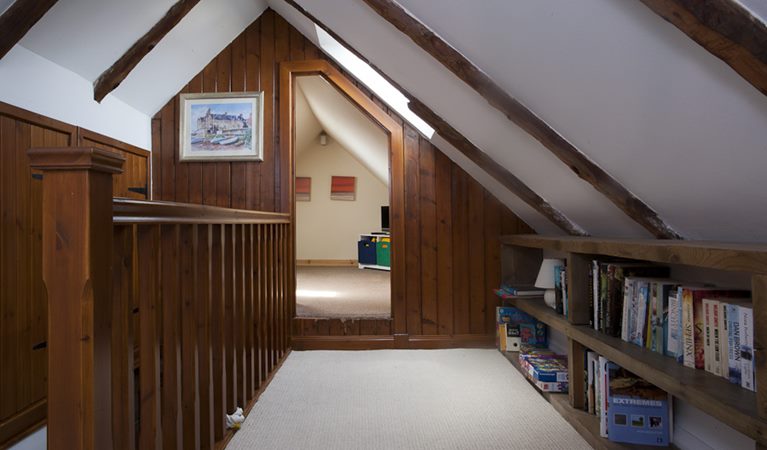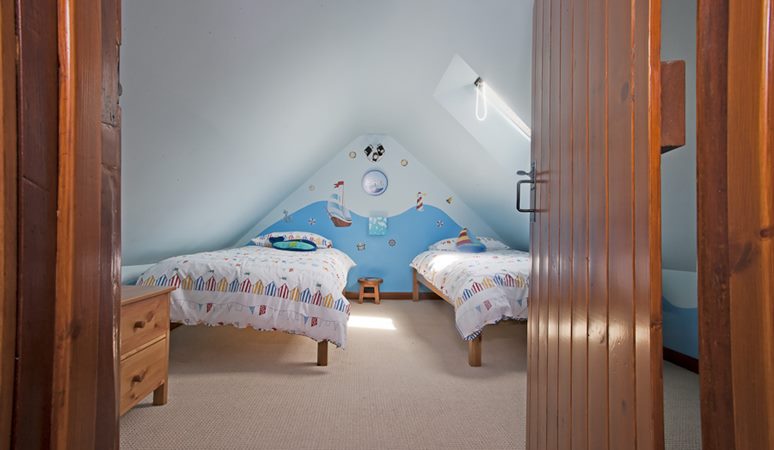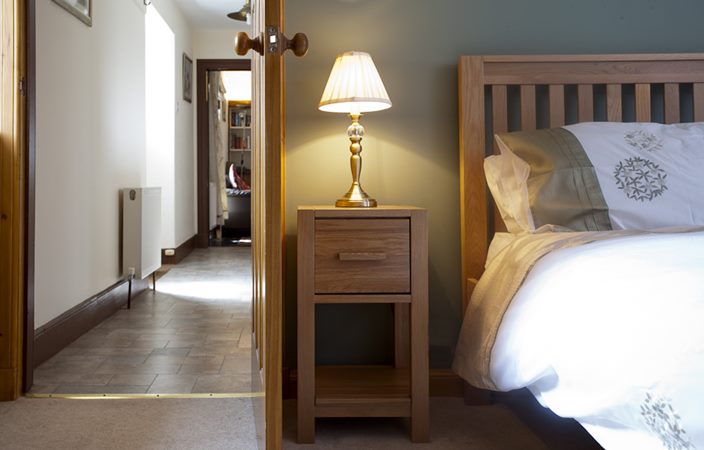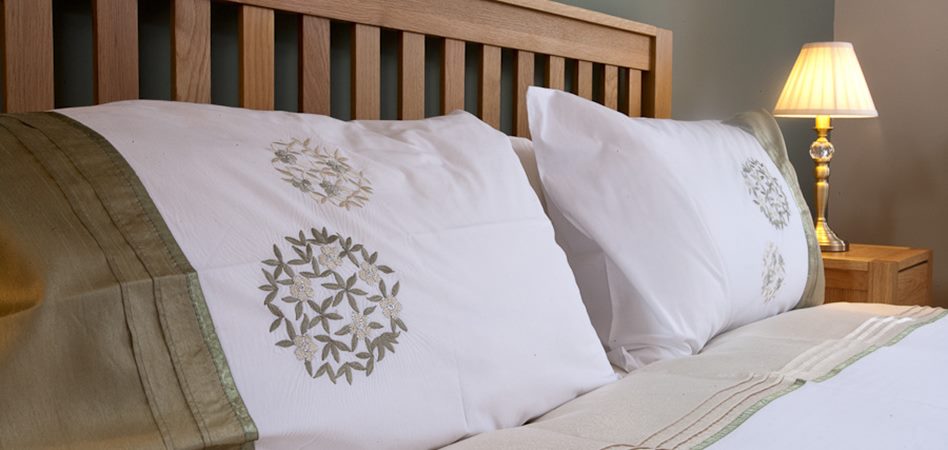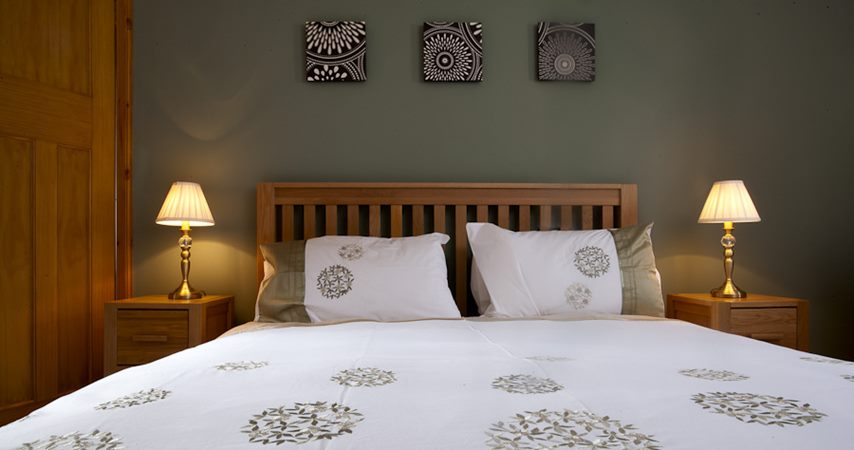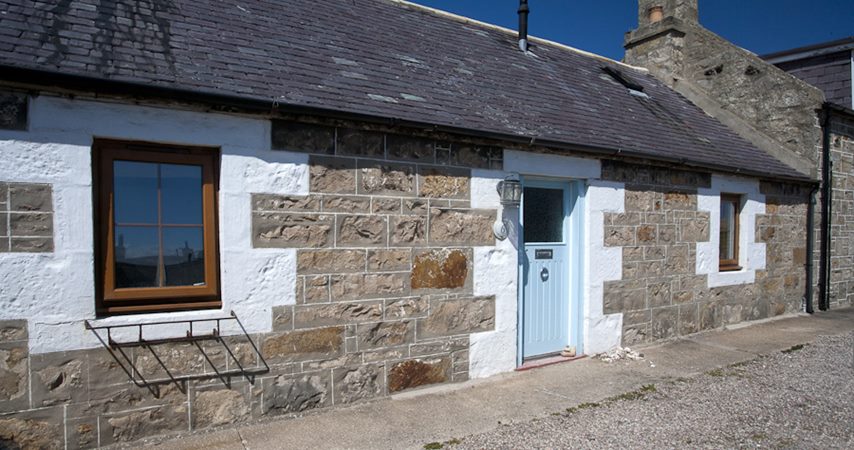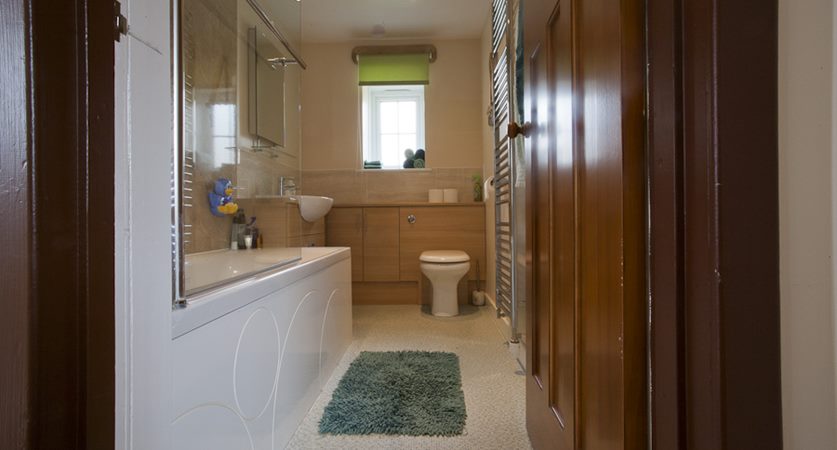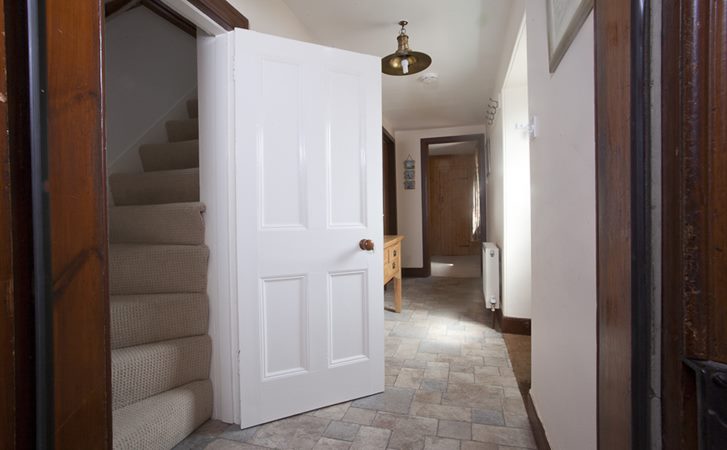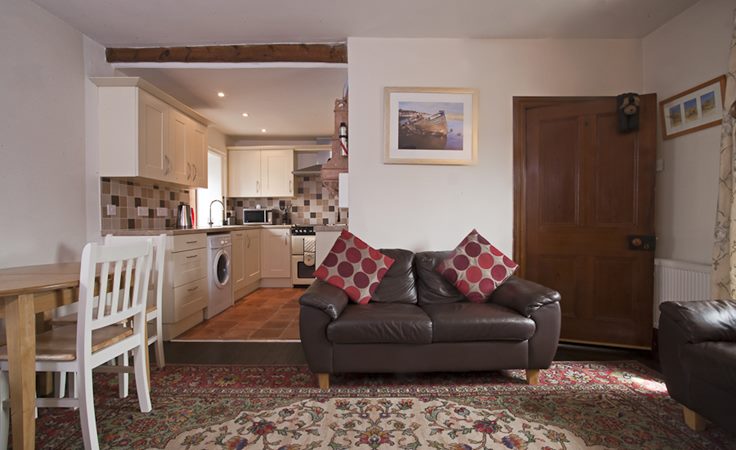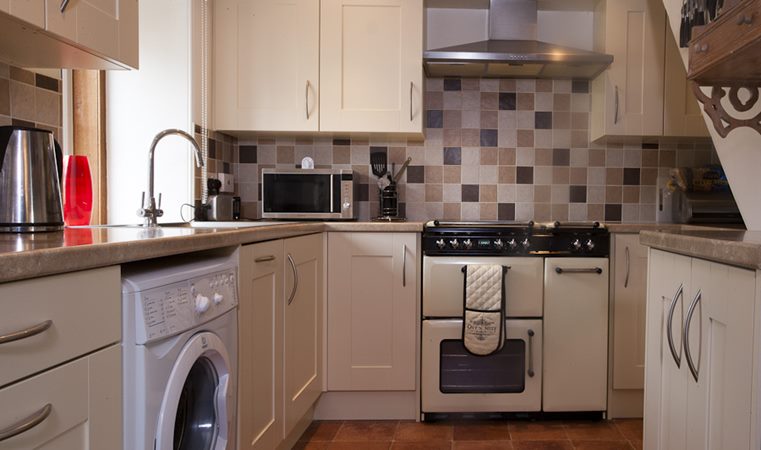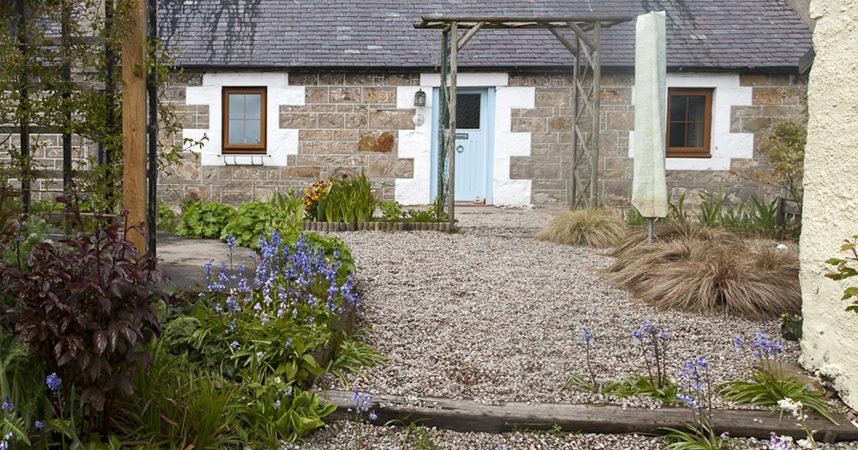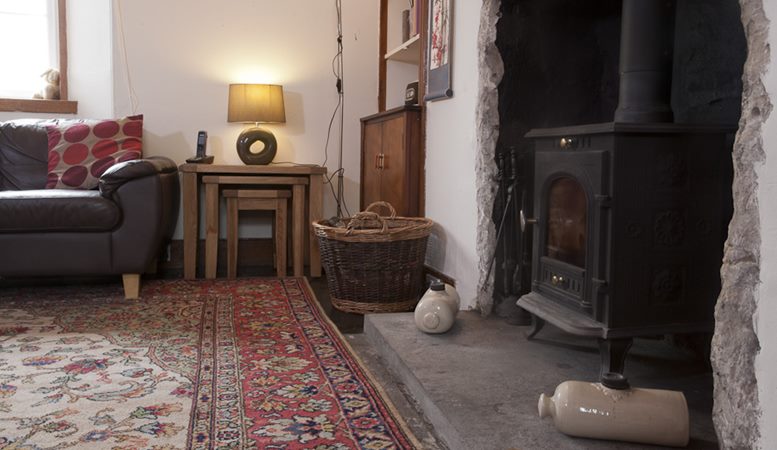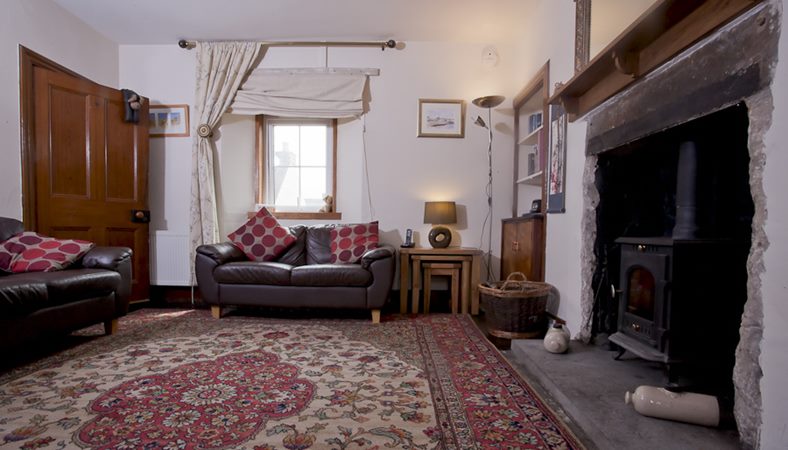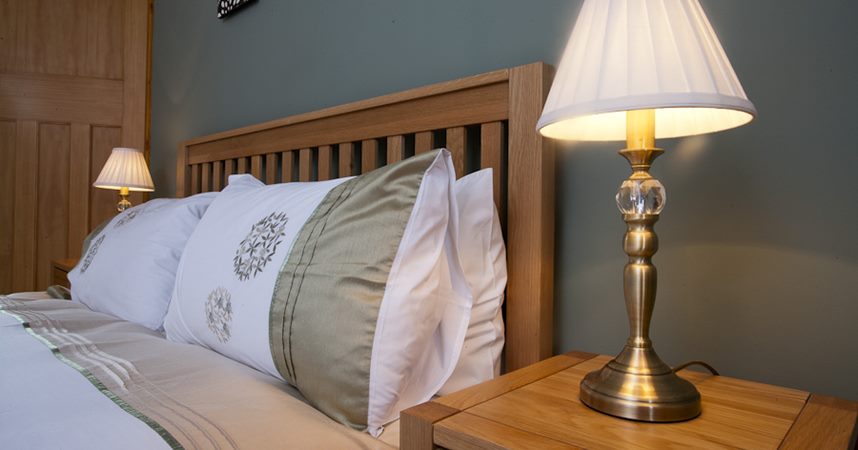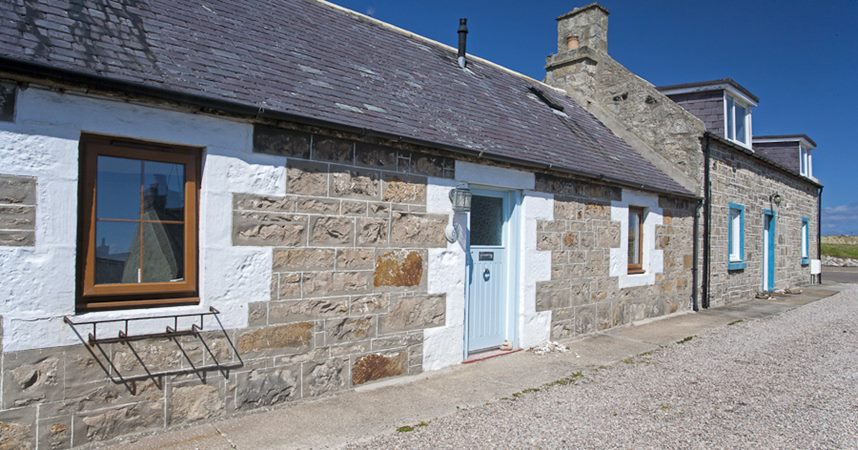 6 Seatown
6 Seatown is a traditional fisherman's cottage, built in the 1830s, gable end to the sea, in the oldest part of Lossiemouth, the old Seatown. 6 Seatown provides comfortable and cosy accommodation in a stunning location, just opposite the photogenic remains of the old bridge to the fabulous East Beach and an easy walk to the woods along the river's edge.
*** Please note – if you are booking the cottage before Christmas 2023, there may be some noise disruption, as we are doing a major renovation to 5 Seatown next door, with a view to making it our forever home. Hopefully from late September it will be quieter internal decoration work, however please phone for a chat if you have any concerns! ***
The cottage has a ground floor king size double bedroom and bathroom as well as the lounge/dining area and open plan kitchen. This makes it ideal for couples, those with young families, or those with limited mobility. Due to their low ceilings, the rooms upstairs are only really suitable for younger children, but there is a twin bedroom and 'snug' room with a second TV.
6 Seatown is cosy and intimate and has a sheltered and secluded garden. There is on street parking in front of the cottage and all modern amenities such as WiFi, washing machine, tumble dryer and dishwasher. Your four legged friends are welcome and will love the walks from the door.
For over 2 and a half years access to the East Beach was restricted to surfers and paddleboarders and a few hardy souls who waded across at low tide, as the old footbridge bridge was closed in 2019 due to safety concerns. Thankfully now the new bridge is a firmly established part of daily life! In one busy week at the end of April 2022, there was great excitement round the town as the 4 sections of the new bridge were lowered in place by a massive yellow crane and the bridge was officially opened on 31st May this year. See Lossie Bridge Updates for pictues and the full story. There is also a live stream webcam showing the new bridge and conditions on the beach on YouTube.
So, there's something seductive about Lossiemouth. The place gets under your skin and into your soul. Dry, sunny climate, rare to find in Scotland; two vast, sweeping, silvery beaches; rugged coastline, abundant with wildlife; majestic Stevenson lighthouse, spectacular views of the Northern Lights…
But more than all of that, it's just 'the feel' the place gives you…
Live your best life…
When you wake and the sun's shining (as it often does here), it just feels awesome to be alive. As you get ready for the day, you may wonder why you've never discovered this hidden gem before.
At sunrise, you can catch West Beach coming alive with dog-walkers, runners and early morning swimmers kicking into the new day. Maybe you'll join them? 
On East Beach, wetsuit clad figures on their boards pepper the waves, as surf instructors encourage their students to 'make the drop'. Further along the beach, you may see bright colours overhead as kite-surfers perfect their freestyle tricks. 
Later,  dine out at a local eatery, savouring plates of locally caught langoustine, fresh off the boat and simply served with garlic butter and home-baked bread.
Face the elements…
Ok, we admit it. It's not sunny all of the time! But when the wind howls and the winter storms blow, it's not the 'Lossie way' to stay indoors! On wet days, you're likely to find as many people in the water as on the beach. Surfing, kite-surfing, coasteering, paddleboarding, kayaking and wild swimming are all popular here. 'There's no such thing as bad weather, just the wrang troosers!'  Wrap up well and embrace the elements. Lean into the wind and fill your lungs with clear Scottish air. At the end of the day, you can return to one of the town's cosy establishments for a thirst quenching pint or a brimming hot chocolate!
Find your own rhythm…
If you are not tempted by water sports, why not explore the Moray Coastal Path?  Whether walking, hiking, biking or trail running is your thing! Listen to the ebb and flow of the tide as the waves break on the rocky shoreline below. Get into your own natural rhythm as you experience this stunning stretch of coastline. Let your senses feast on the sights and sounds of nature; feed your soul.
Share the secret…
You will love Lossiemouth's unspoilt location just on the edge of more well-publicised Highland hot spots, so near yet so different in many ways (including the lack of midgies!) So why not come and see what it's all about?
Cottage Virtual Tour
More Information
adrian
2023-09-25T18:07:12+00:00
6 Seatown provides comfortable and cosy accommodation in a stunning location, just opposite the old bridge to the fabulous East Beach and an easy walk to the woods along the river's edge.
Lounge
Two sofa's, real woodburning stove, dining table & 4 chairs, satellite TV, DVD player, CD player and Wi-Fi. The lounge opens out into the galley kitchen.
Kitchen
Well-equipped with 5 ring cooker with double oven, a kettle, toaster, dishwasher, cooker, microwave, fridge, washing machine, crockery, cutlery, glasses and cooking utensils.
Master Bedroom
King Size double bed on the ground floor, suitable for guests with limited mobility.
Twin Bedroom & Snug
Both upstairs, because of their low ceilings, we have kitted these out as a children's twin room and a 'den' – complete with bean bags, a toy chest and a second TV & DVD player.
Bathroom
Three piece bathroom suite with shower over the bath, situated on the ground floor.
Garden
Outside there is a garden shed with a small freezer and tumble dryer, garden furniture and small bbq where you can also store your own bikes or surfboard etc. The garden is fairly sheltered and secluded.
The cottage is WIFI enabled.
Prices
Prices range from £450 per week in the off peak winter months to £805 per week in the high summer. There is a supplement of £10 per dog, should you wish to bring one (or two!), but we do ask that they are kept out of the bedrooms and not allowed on the furniture. The price includes all linen, towels, heating, electricity and a welcome pack with the basic necessities for that first cooked breakfast.
Your widget will appear here.